Pier Pads allow you to protect your boat and pier from damage caused by hard landings, rough water and errors in judgement.  Enhance the appearance of your dock and reduce maintenance costs with this advanced new product.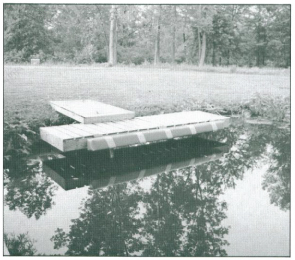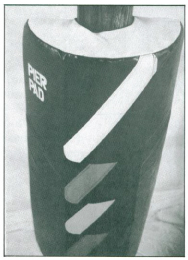 Our Pads are constructed of the highest quality materials, using the latest developments in technology.  The patented surface material is a high performance, wear-resistant, new breed of vinyl-coated fabric, with an exceptional resistance to ultra-violet light degradation and attack from fuels, acids and other chemicals.  If cut, the inner-weave of the fabric will rope or "knot up" to prevent further tearing.
The vinyl-coated fabric is applies over resilient high-density foam and attached to a mounting board.  Mounting boards are dimensional, solid extruded recycled plastic, which has an indefinite life expectancy and is not subject to insect attack, warpage, rotting or splintering.
Our pads can be designed to accommodate virtually all types of piers, docks, slips and fuel islands.  This product will not scuff or mar boat surfaces.  All pads are designed with boaters' needs in mind.